Festival
Arvikafestivalen 2009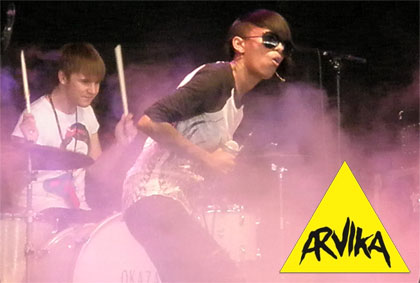 Vädret var strålande och festivalen slog sitt tidigare publikrekord flera gånger om, men det var inte det mest glädjande. Ännu ett år visade det sig nämligen att Arvikafestivalen är stället där lineupen verkligen levererar. Recensioner hittar ni här:
Alice in Videoland
Bob Hund
Bullet
Depeche Mode
Dymott, Adiam
Dyno
Eagles of Death Metal
Engel
Eriksson, Klas
First Aid Kit
Fleet Foxes
Hoffmaestro & Chraa
I Are Droid
Korn
Lee, Jonna
Lillasyster
Nine Inch Nails
Röyksopp
Sirqus Alfon
Sounds, the
Ternheim, Anna
This is not a game of who the fuck are you
Thåström
Tiger Lou
Welle Erdball


Intervju: Jonna Lee
Intervju: Lillasyster
Mikael Mjörnberg
2009-07-05
Foto:
Hemsida:
www.arvikafestivalen.se
Kommentera
Patrick Bateman, 2009-07-13 20:07:54 (90.228.217.185)
Varför omnämns inte ett ord om Elegant Machinery här? Lite underligt med tanke på att det var på deras Myspace-sida som jag hittade länken hit...